Sensory Graphics for Primary Schools
During the 7 hour school day, kids are encouraged to sit still and behave. Even adults get tired and irritated with the absence of vital movement. Imagine the stress children are put under with minimal activity before they know how to express emotions and regulate behavior.
From creating a Play-Doh model to understand the solar system to arranging beads to visualize addition, kids thrive through experiential learning. Equally as important in an educational setting, breaks reset students' attentivity and productivity. When breaks become experiential learning opportunities, students get the best of both worlds.
What Are Sensory Graphics?
One key difference between sensory graphics and playgrounds is that sensory graphics are mere feet away from the classroom. Sensory graphics provide quick breaks and purposeful stimulation through interactive visuals on the hallway walls and ground. These lively graphics are more than stickers on the floor. The frog jump, wall push up, and side step movements are developed to engage the senses.
The Benefits of Sensory Graphics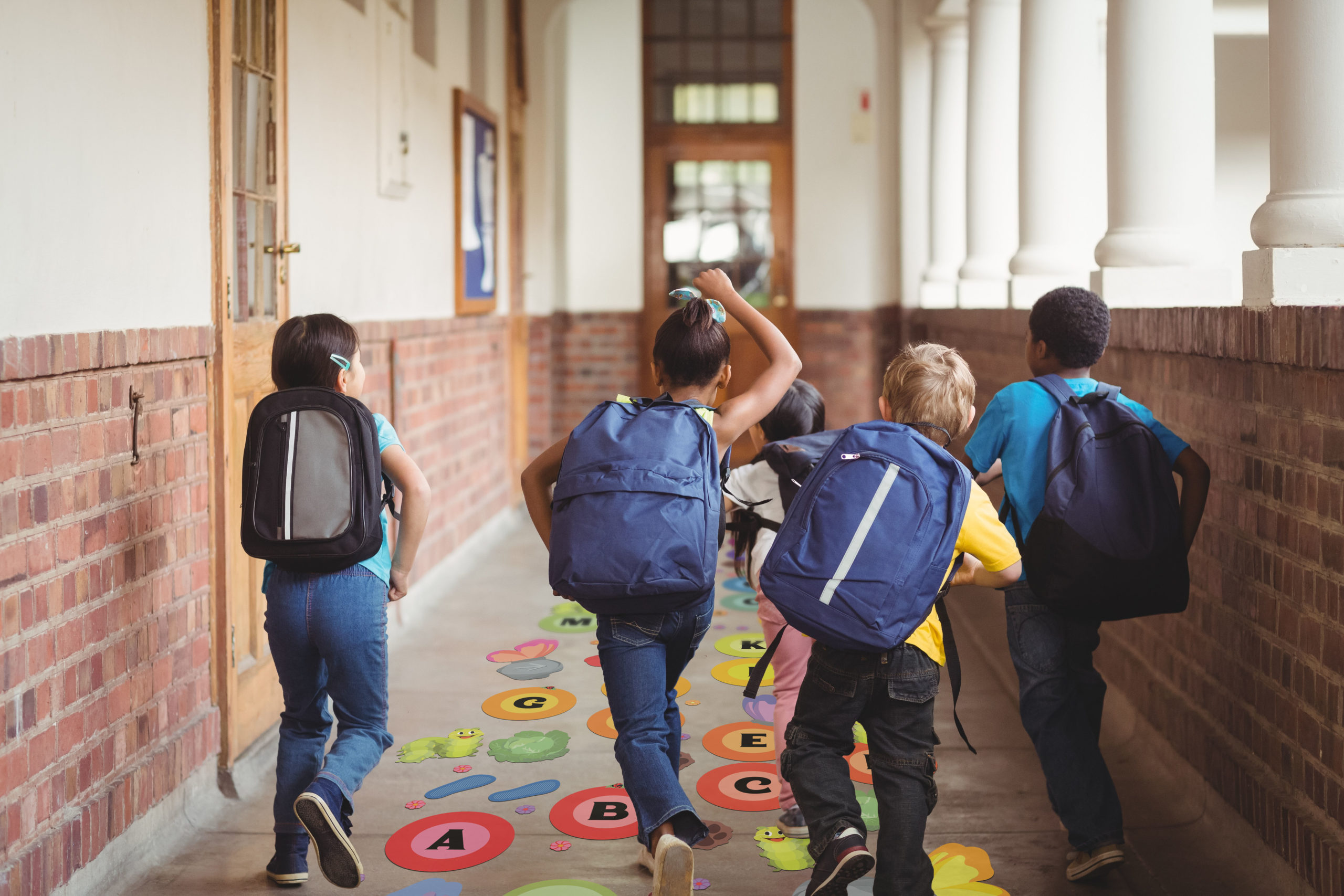 1. Improved Behavior
It's clear that sensory graphics provide a physical outlet, the less obvious benefit is their capability of regulating emotions.
Oftentimes children act out when they're overstimulated or understimulated. An understimulated child is on the constant hunt to cure their boredom. An overstimulated child may become uncooperative and cranky because of exhaustion. Originally developed for children on the spectrum, sensory graphics zero in on releasing built up tension with the perfect balance of stimulation.
Stressors from students' personal life often cause them to act out in school and get in trouble. Considering that most primary school children struggle with verbally expressing their emotions, outbursts are all the more likely to happen.
Sensory graphics in the hallways of schools have transformed the "bad kid" into the superstar student. From these graphics kids learn that the readily available outlet, sensory graphics, are at their disposal whenever they're overwhelmed. Instead of releasing frustration through misbehaving, stressed out kids can take a quick trip into the sensory graphic world.
2. Improved Academics
One of the key improvements that teachers and parents witness after students are introduced to a healthy emotional outlet is enhanced academic performance. Through refocusing and decompressing from stressors, students restore their capacity to concentrate and learn in class.
Sensory graphics engage the proprioceptive (muscle and joint), vestibular (coordination and balance), somatosensory (tactile perception), and visual systems. This means that the training students undergo while completing sensory paths directly culminates skills that help them succeed in academic settings.
For example, frog hopping from leaf to leaf develops hand-eye coordination and engages visual tracking. These skills are essential for strengthening handwriting, reading, and even information processing.
3. Teaching Motor Skills
In addition to aiding academic performance, employing the various systems develops kids' motor skills. The highly sedentary environment that the classroom has become often limits opportunities for running, jumping, bouncing…
High performing and cooperative students are likely to have well-developed motor skills. Beyond just basic movements, motor skills guide students to control their bodies for task completion, according to Tools to Grow. Practicing motor skills encourages independence and problem solving in children. From dressing themselves to completing their homework problems, exercising motor skills is necessary for growth.
The Easter bunny themed hopscotch, jungle themed puzzle path, circus themed A-Z step and say all utilize motor skills from start to finish. Sensory graphics  are fun and educational tools for easy, exciting, and accessible skill development.
Team with ARC
Over the past few decades, ARC has produced graphics for over 90,000 customers. From wall graphics to window graphics to bus wraps we've done it all. We're experts in the graphics industry and want to offer our skills to help your kids succeed!